by: Jojo Bollozos





The Pop Icon Season 3 fever is still on and nothing could even stop it.

Early Friday morning, 19 March 2010, was not a very good one as the atmosphere was covered with dust brought about by the sandstorm which lasted until early evening. Few minutes after the start of the program, the gusty wind gave up to the pleasure of everybody in attendance who filled up the Liwasang Bonifacio ground of the Philippine Embassy.


It was certainly a night of songs and dances… The 16 semi-finalists transformed the whole venue into a dance floor as they gyrated to the rhythm of their music at the center stage. Each of them gave their best performance to the euphoria of the audience. The contestants gave the judges the worth of their time. Those who sat down as judges were –
Elmer Aquino, Ming Barnachea, Veejay Aragon and Edith Cetro.
The whole ground was filled with tension when the time to announce the top 4 came. Certainly, it was the moment of truth when Ron Jacobe, SE Productions in-house director who was also the host of the show announced the top 4 in random order and they were – Brian Garcia who sang When You're Looking Like That, Nathz Corpus who rendered Maria, Neribe Dolorecon who sang Umbrella and Vlizel Baniqued who belted Hush Hush. Likewise, Vlizel was adjudged the Pop Star of the Night. Jay-Are Nate consistently got the highest internet votes.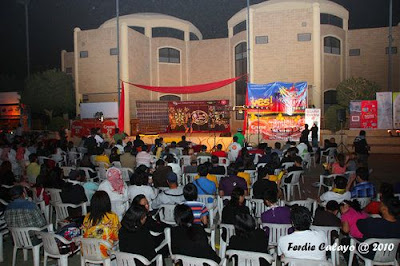 All four shall represent Riyadh in the Grand Finals on 21 May 2010 competing against the 4 representatives from the Eastern Province and 4 representatives for the Western province.
Indeed the heat is still on…



event photos by: F. Calayo - Cameraderie Club